Main content starts here, tab to start navigating
Our Mission
The approach is simple: source the best quality ingredients we can and don't fuss with them too much. We cook our barbeque the old school way with plenty of wood and time, adding just the right amount of salt and spice to let that lovely marriage of process and product evolve into something transcendent.
The Food
We bring together the best of all great BBQ techniques to create something uniquely its own. The process begins with the best, all-natural meats and poultry, seasoned with perfect spice blends and then smoked with wood for many, many hours until the perfect harmony of smoke, flavor and time emerges. Our food is steeped in tradition but given new life. BBQ was created in the South but Mighty Quinn's Barbeque was born in New York!
The Experience
Pick your meats and watch as everything is hand carved per order. Amazing food, great atmosphere, quick service, convenient locations and ready
to please.
Our Pitmaster
Fond memories of palate altering meals and a deep admiration for the soul of real barbeque have led Hugh on a personal quest for slow smoked perfection. Many years and copious piles of wood later Mighty Quinn's New York barbeque represents Hugh's craft and his desire to make people happy eating slow smoked goodness.
Tips from the pit for Summer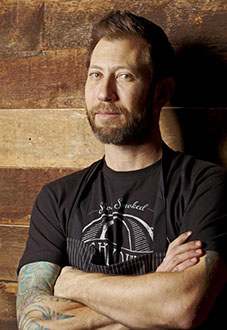 Hugh Mangum, Pitmaster
It's apropos that as the thermostat gets turned up, my go to tips for the summer are mostly all high on heat.
Summer is a great time to get that grill screaming hot and give seasonal items a kiss of fire whilst still allowing nature's flavors to remain true. Think things like sweet corn, tomatoes and summer squash. All these items love the simplicity of a light brush of olive oil, some sea salt and a few moments to a couple minutes on the grill. They pair beautifully with proteins that similarly shine with simple preparations and high heat grilling.
There's the obvious burgers or sausages, but don't overlook or fear more ambitious cuts like a strip steak or rib eye. That being said my absolute all time favorite grilling meats are skirt and hangar steaks. These cuts want nothing more than some salt, olive oil and garlic and pair perfectly with anything from chimichurri to charred tomatillo salsa or a simple fresh herb salad.
You can also elevate simple salads with a kiss of live fire...char halves of iceberg lettuce or romaine to elevate your wedge salad. The char adds an element of depth that will have your guests jealous that they didn't think of this first!
Lastly, don't overlook fruits!!! A little fire on fresh peaches before you top them with vanilla ice cream will blow your mind or do like I did on Firemasters and char your blueberries before using them for a cobbler...Mind. Blown.
Thank me later.